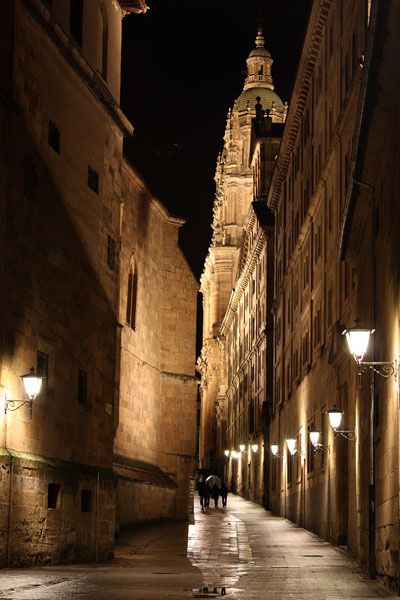 When someone speaks of his land, maybe it does from a perspective somewhat subjective, because we tend to idealize the places we live there with feelings, as we make our forming a perfect symbiosis. It is the city that are used, which are molded and therefore loses some objective reality.

Despite this and the deep love for my land I will try to be as realistic as possible but in the case of Salamanca is very easy to put it through the roof!! :)

It is a city for me with a perfect size, just over 150,000. Famous for its university and for its lively street life.

For his New Year´s Eve University, which is done every 13 Decembers almost 10 years and where they meet over 30 thousand people from all over the world to celebrate New Year's Eve early with their faculty colleagues and friends since then students return for Christmas with their families to their cities

Land art, Knowledge y bulls ......

Ideal for a weekend visit in order to have fun, both for groups of friends wanting nightlife, and couples with a desire to stroll along the romantic streets of the old town and taste their delicious tapas bars in many and restaurants.

There is a sentence that summarizes Licenciado Vidriera nicely I think the feeling of the people visiting for the first time Salamanca and reads:

" Salamanca que enhechiza la voluntad de volver a ella a todos los que de la apacibilidad de su vivienda han gustado"
It mean, who comes, repeats. I don,t know anyone who has disappointed this city, may seem more or less beautiful but certainly not leave you indifferent.

It is a city so much visited by both Spanish and foreign, with a large range of hotels with over 220 establishments including hotels, guesthouses and more than 11,000 seats.

It is one of the main recipients of Erasmus students in Spain during the course and in summer students foreigners who come to do a Spanish course in one of the many schools that the city has.

I will try to divide this article living Salamanca from three different viewpoints.

1. Salamanca cuisine.

It has more than 1200 pubs, bars across the city so that you can get an idea of ​​rootedness that exists in this city to tapas. Typically in bars ask a drink accompanied by a corresponding tapa can choose from a variety. Typical of the area are chanfaina (rice with tripe), el farinato (typical sausage of Salamanca), Paloma (salad with lard), Guijuelo sausages, scrambled variety of skewers and countless more.
There are two main areas for tapas, central and Vandyck area.
Bars In central recommend as Casa Paca , Casa Vallejo, Cervantes, Infantes, Real, bambu, all coming around the square.

Vandyck area with bars like La parrilla, famous for their delicious ribs, El Chinitas, El chicho, La Encina and can eat some delicious potatoes on El Tenderete.
I put some references in the area but of course no offense to others who are equally or better than those cited.

2. Salamanca Night

I always heard of Salamanca is the most atmospheric city university of Spain with Granada and Santiago de Compostela and attest that it is true because you can go out any day of the week and find atmosphere.

As happens with tapas bars, pubs and nightclubs is littered throughout the downtown area; salts practically one and you find another.

I will mention some of the most famous such as The Cum Laude, Camelot, La Posada de las Animas, El Submarino, El Puerto de Chus, Gasbi ......
3. Monumental Salamanca

There is a tour of the old who visits almost all major monuments and that will certainly be happy. Starting from the Plaza Mayor which is for me the most beautiful in Spain.

By continuous pedestrian street Rua Mayor and as you heading down into the street you will find the Casa de las Conchas which currently is a municipal library.

By continuing just meters reach Plaza de Anaya where cathedrals and ancient powers of Philology and Faculty of Law.


In the rear of the cathedral you can visit the Garden of Calisto and Melibea, La Casa Lis and a little below the Puente Romano.


Up Libreros street can visit the front of the University and El Patio de Escuelas
arrive at Pontificia and Compañia down the street you found yourself faced with the Palace of Monterrey.

In the area there is a cafe called Pontifical Mandala where you can enjoy a delicious pies accompanied some milkshakes.

And you're almost back in the main square, having made a tour not too long but full of history.

To finish that is a great city to visit at any time of year but my recommendation is for the academic year to see its true essence and power felt his life to perfection, as the engine that moves are students.
Para estar informado de los últimos artículos, suscríbase: